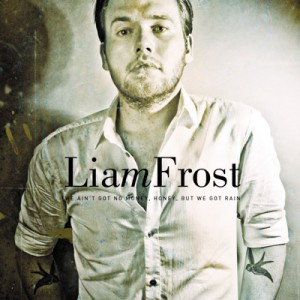 10. Liam Frost -
We Ain't Got No Money, Honey, But We Got Rain
I was introduced to Liam Frost this year by a close friend of mine. She may seem a little overly-fond of him, but with valid reason, I've discovered! I first encountered his debut album,
Show Me How The Spectres Dance
(2006), which he recorded and released with his band The Slowdown Family. Now though, he's gone solo, and his maturity as a song writer is clearly evident in
We Ain't Got No Money
. Lyrically, Frost is outstanding. Musically, his sense of key and cadence stand out from most singer-songwriters also currently breaking into the mainstream.
The album opens with the single
'Held Tightly In Your Fist'
, immediately showing off his talent for words. Like a few tracks on the album, lyrical content often doesn't match the music. A seemingly joyous affair may be hiding a gloomy, morbid story in its midst. This is a feature that's kept with Frost since his debut, though things sound to have cheered up somewhat.
My favourite track off the album is
Skylark Avenue
, recorded using only vocals and distorted electric guitar, giving some sense of raw purity to the song and the depths of it's meaning. Frost also performs a duet with singer-songwriter Martha Wainwright on
Your Hand in Mine
, a collaboration with Ed Harcourt.
Seeing him perform a solo gig at the Leaf Tearooms in Liverpool this April, I was literally given a front row seat to an outstanding performance by man and guitar. The dapper musician gives his all in each and every beat played, pouring his heart and soul into every note. The over-shot set timings was more than worth the run for the last train home, but we didn't leave before nabbing our dear Liam's setlist...
I was personally told at Summer Sundae 2010 by Frost himself that he is currently working with a new band that he's formed. He has one final solo show in Manchester in September, after which he will be turning all his attention to the as-of-yet un-named band. Looking forward to whatever next comes our way from this handsome Mancunian.